While I'm crawling on the path of learning how to live normally, I can only say one thing: there are things I will never understand and « living without thinking about my condition » is definitely one of them.
In a attempt of taking care of myself and embracing change, I went to my hometown hairdresser and got a bright new haircut. And not only have I hit two birds with a stone, I actually came back with some valuable piece of advice from a proud grandma of ten grand-children. My hair is my security alarm! Whenever something is going wrong with me, my hair is the first to let me know. How? simple. It does not respond to any of my tentatives to fix it, neither it obeys to the laws of gravity. Anyway, I spent the afternoon at the salon and had the opportunity to listen to some valuable advice. « Live everyday at its fullest, go out, travel, have fun before it is too late » were the wise words of this wise woman.
She talked about the hell diabetes was putting her through and I told her about fibromyalgia which she had never heard about. I quickly tried to explain that it was a chronic illness that causes chronic pain and promptly stopped when I started seeing the signs of distress and helplessness on her face. Then we talked to me about her 26 years old grand-child who was diagnosed with MS the same week she got engaged, which certainly couldn't make our chit chat more awkward. It felt like participating to an auction sale and that woman is as bad at losing as me! 😀
Our conversation ended up with a nice caress on my cheek and this advice: « Like I told my grand-daughter, you need to forget about the illness and live your life ».
I know she didn't mean literally forget but I must say that even though I can see the underlying meaning of the sentence, I honestly don't understand how it is eventually possible.
I would not dare to underestimate an 80 years old woman's experience however, I could't help it but wonder: « Does she really know what she is talking about? » It was truly nice and compassionate from her to say encouraging and cheerful words but I must admit that I am at this point of frustration where you don't always appreciate « cheerful » statements anymore. I'm sorry to say that inspirational quotes as: » live your life » or « you can be who you want » start to sound not only cheesy but even sometimes offensive as in « a bad joke » offensive.
This lovely old lady made me wonder if I would ever understand what it is like to live normally again. Only a year after being diagnosed, my life has been so affected and influenced by this condition that I don't think that living without – overthinking it – is an option. Not that I haven't fail to try.
Believe me, I tried my best to try to live my daily life without thinking about it and guess what? when I end up in a lying position, cursing my entire existence, then I definitely remember that I HAVE a condition.
Not being understood by people of your age, life-starters lacking experience is ok, somehow acceptable, but when a person who had the time to live your life almost four times does not know what to say to you, then you start freaking up.
But I'm not. I will just thank myself for living this great life learning opportunity even though most of the time I think myself might actually hate me :D, and probably stop being offended for not being able to live life at its fullest according to what they say, but that does not mean that I can't live it at MY fullest, my way.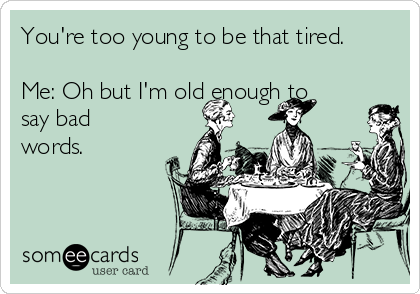 K.